Dear Tim,
I am pretty worried about all our doctor's appointments that we have coming up. I really hope both of us are OK.
Dear Kitty Cats,
Momma is sorry that the rain is so bad and the thunder so loud today. I know you're scared and I would really appreciate you not acting out that fear by scratching our furniture or peeing on our carpet. We all have to live here, not just you guys, OK?
Dear Brooke,
You can do it! From our conversation last night, I can tell that you are in that uncomfortable last stretch of your pregnancy. You are doing amazing.
Dear Happy Hour,
Have I expressed my love for you lately? That glass of pinot last night really took the edge off my day.
Dear Work,
Stop sucking. Please. We are all adults, can't we act like it?
Dear Blog Friends,
Are we friends on
Instagram
yet? If not, let's change that.
Dear M. Ward,
I am so excited to see you tomorrow night. Your music has kept me going through so many difficult times.
Dear L.A. Hipsters
, I hope you have fun at
Coachella
this weekend. I am only slightly jealous that we will not be joining you this year. To read my review on last year's Coachella click
here
.
Dear Hubby Bubby,
I know we are stressed / anxious about a lot of stuff, but let's try to have fun this weekend. Can I take you out for a drink (or three) tonight? I love you.
Forever and A Day.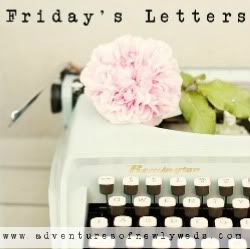 What are your plans for the weekend?