Dear Tim,
I really wish you didn't have to fly to Manhattan this weekend. I like you safe and home and I'll miss you.
Dear Flowers Near Our Apartment,
Thank you for falling in perfect little blooms. You really made me smile this week.
Dear L.A. weather, WTF?
Make up your mind! You went from raining all night to bright and sunny yesterday morning. You are not Florida, so please stop acting like it.
Dear Dodgers,
Please win tomorrow's game. It's the first game that I'm actually going to this season and I would really like to see you win in person. THINK BLUE!
Dear Dharma (aka Moo Moo),
I'm sorry that you have to go to the vet this morning! I hope that everything is OK and that your tooth surgery goes alright. Mama is going to try her best to take care of you!
Dear Pathologist,
Thank you for sending me a letter in the mail telling me that my Pap smear came back good and normal. It was extra considerate of you to even include a Spanish version of the good news on the back.
Dear Blog Friends,
Welcome to all the new followers! I'm really enjoying getting to read your blogs and learn about you! I have a couple new buttons up over there on the right. Let me know if you are interested in swapping!
Dear Nick Miller,
I think I have a tv crush on you.
Dear Hubby Bubby,
I definitely have a real life crush on you. You are my everything. Your support, kindness, and dedication to me and our marriage no matter how down I am, amazes me. I know I've been sore, anxious, tired, and upset this week, but you have been nothing but kind, compassionate, patient, understanding, and attentive. And if that wasn't enough, you made me laugh when I needed it and held me together when I couldn't do it myself. You are my rock, my strength, my closest friend, my everything and I love you.
Forever and A Day.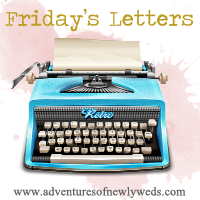 Does anyone else love The New Girl as much as Tim and I do?