Dear Tim,
I think we've finally figured out what we're doing for our one year anniversary trip. Although it's not the crazy extravagant trip I've always dreamed of, I think it's going to be sweet and romantic. I'm definitely grateful that you're going to be taking the two days off so we can have a 4 day weekend together to celebrate next month. Whoa. Next month? How can time move so fast and so slowly at the same time?
Dear Dharma (aka Moo Moo),
Last Friday you went to the vet to get your teeth cleaned and they ended up having to do an extraction or two. When we brought you home you were loopy, but I chalked it up to the anesthesia wearing off. The next morning Tim left for Manhattan and you started having seizures. You scared Mama so much. The vet still isn't sure what happened and has you on Valium for two weeks, but it's making you unbalanced and sleepy. I really really hope that whatever happened resolves itself and you start feeling better and get back to your old healthy self soon, because we really don't want to have to put you on anti - convulsants for the rest of your life. I love you so much.
Dear Brooke,
You're still pregnant! I guess the doctors were wrong about you possibly delivering in April. I'm sorry you're so uncomfortable. I wish I could do something to make it better. Maybe Max is just stubborn. I hope we all get to meet him soon!
Dear Dermatologist,
Still no biopsy results? I'm so anxious about them, as always. Please, please, call soon with good news.
Dear Anyone Who Knows How To Use A Pastry Bag And Decorating Tips,
Can you email me please? Or just come to my apartment and teach me how to use them. It looks so easy, but apparently it isn't. The cupcakes I made the other night taste really yummy, but the frosting is not cute. At all.
Dear Blog Friends,
Thank you for sending in those recipes! I am excited to attempt them and Tim is excited to try them out. As soon as I start feeling better, I will start working my way through them and I'll post the results!
Dear The Five Year Engagement,
I loved you. Judd Apatow is so good at making movies and Jason Segal is so cute and funny in everything he does. I even cried at the end. I can't wait for the (kinda) sequel to Knocked Up.
Dear Mama,
Thank you for doing awesome things like talking me down off of ledges and sending me books, stationary, and oven mitts via snail mail. I love you.
Dear Bubbuski,
I love you so much. It's been a hard few weeks for us and we aren't in the clear yet, but I'm so glad that we have each other to lean on and hug when things are hard. You are my everything and no matter what I love you.
Forever and A Day.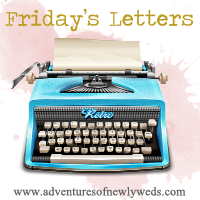 Have you seen any good movies lately?