Dear Tim,
It's about to be the weekend! I'm so glad because we have a fun one planned! Beach, visiting the grandparents, going to a brewery we've never been to before, reflexology massages, hanging out downtown... I'm excited!
Dear Grandma,
I'm so glad that your angiogram went well and they found no blockages in your arteries! I need you around for a long time, so this is exceptionally great news.
Dear Yogurtland / Menchies,
I'm officially obsessed. I love that I can get a sweet fix for around 30-50 calories.
Dear The Knot,
Thank you so much for featuring us in your current issue! We are so honored to be in a magazine on newsstands all around Southern California. (See more about that
here
.)
Dear Wanderlust,
You're hitting me pretty hard lately. I'm so excited for all the trips that are in the works for this summer! Additionally, thank you for being strong enough that Tim and I are actually planning an EPIC trip for 2013. More on that as we hammer out the details.
Dear Kelle Hampton,
I'm so excited to find and read your book, "Bloom" soon. Your story is inspiring and you and your family are gorgeous. I love your strength and beauty.
Dear OPI Holland Collection,
You are possibly my new favorite. Tim took me to Ulta last weekend and I picked up Suzy Skis In The Pyrennes, I Have A Herring Problem, and Dutch 'Ya Just Love OPI. I couldn't pick. $30 spent on nail polish... no big deal, right?
Right?
Dear Skinny Girl Cocktails,
You make SO many things now! Sangria? Wine? Where can I find all of these?
Dear Bethenny,
I know we're Twitter friends and all... hook a girl up!
Dear Blog Friends,
I'm thinking of hosting a giveaway if I get to 100 followers as a big thank you for all of your support. What do you think? Also, stay tuned because I think next week is going to be a whole lot of wedding related posts! This is your big chance to see how we celebrated our big day!
Dear Babers,
Date night last night was amazing. I love lingering over gourmet specialty pizzas and glasses of wine at Pitfire with you. You're the best and I feel so honored to be your wife. I love you!
Forever and A Day
.
What do you have planned for this weekend? It sounds like it's going to be a fun one!
I would love to see you over there!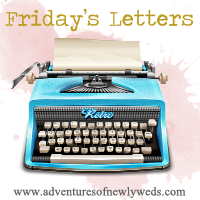 P.S. I am now accepting button swaps! Click on the link in the nav bar for more details!